Review Spotlight
We had coaching sessions on Tue, Wed, and Thu this week -- I'm the "UX executive" guy with the monotone, weak language ("I think"), and confidence problem! Well, I just had my second interview for a Director of UX job I really want and it went fantastic! It was a panel interview via GoToMeeting with 3 interviewers, including the Hiring Manager. I prepared a 30-60-90 Day Plan that was a smash hit! They gave me an opening right at the beginning and I dove right into it. It served as the framework for the rest of our conversation. I kept hearing things like "This is really impressive" and "This is exactly what we need!" At the end of the interview, they said the next step was to get me in for a face-to-face interview, before I even had a chance to close. They basically said the job was mine even though they have 2 more candidates scheduled for Monday. I'm really pumped right now! THANK YOU SO MUCH!
- Gary Coker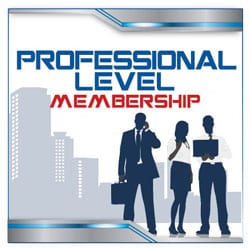 $67/month

Product Description
Professionals & management-level jobseekers
Everything included in the Graduate Level membership is included in this level.
Invitations to join our bi-weekly Total Access Club coaching calls. These calls include 15 presentations on a job search-related topic followed by a LIVE Q&A session where you get to ask your questions of Peggy McKee.
Ability to purchase LIVE one-on-one coaching from our staff at additional discounts.
Access to hundreds of hours of Total Access Club presentations and Q&A videos in our archives. These are recordings of LIVE coaching sessions with Peggy McKee.
Bonus: This level includes our interview tools and coaching specifically targeted for management-level employees.
---
Level Details:
Q&A with expert coaches
Resume templates & reviews
Cover letter templates & reviews
LinkedIn profile tutorial & reviews
Downloadable PDF resources
Downloadable Podcasts
Downloadable compact Videos
Private online community
Access to 200+ hours of online video training
Winning Resume course
Cover Letter course
Salary negotiation course
LinkedIn profile course
Job interview course
Confidence course
Strategic job search course
Hidden Jobs Finder course
Strategic messaging for hiring manager templates
Our 30-60-90 day plan templates for sales, non-sales, and management positions
Our 30-60-90 day courses for sales, non-sales, and management positions
Networking course
Bi-Weekly Presentations w/ Q&A with Peggy
CANCEL ANY TIME!
Instant access at point of purchase with digital delivery. You are fully protected by our 100% Satisfaction Guarantee.
30/60/90 Day Action Plan
30/60/90-Day Action Plan Template (PDF Download)
3 Sample Plans in 3 different styles (PDF Download)
1 PowerPoint Template (download from website)
"How-To" Video for Customizing PowerPoint (video file on website)
50 minutes of video coaching to use the plan (video file on website)
Introduction to the 30/60/90-Day Action Plan (8:37)

Building the 30/60/90-Day Action Plan (4:49)

First 30 Days (3:33)

The 80/20 Rule (6:08)

60 Days (the next 30 days) (5:15)

90 Days (the next 30 days) (4:31)

Presenting the 30/60/90-Day Action Plan (22:59)
Bonus - Modifying the PowerPoint Template (11:33)

Instant access at point of purchase with digital delivery
Automatic access to any future updates
365-day money back guarantee
Published by: Career Confidential
Language: English
Hidden Jobs Finder
3 hours of video, accessible in 3 ways (website video, MP3, iPod Movie)
252 pages of downloadable PDF handouts
BONUS Excel Tracking Spreadsheet to Organize Contact List and Activity
Hidden Jobs Finder Overview and Guide (Video: 1:12:09) (PDF - 72 pages)

Module 1 - Understand How the Hidden Jobs Finder Works (6:23)
Module 2 - Marketing Yourself to Hiring Managers (12:25)
Module 3 - Social Media: How to Find and Be Found (5:34)
Module 4 – Messaging (32:38)
Module 5 - FAQs and Key Ideas (9:09)
Hidden Jobs Finder Resource Video - LinkedIn (Video: 38:35) (PDF - 18 pages)

Hidden Jobs Finder Resource Video - Facebook (Video: 29:12) (PDF - 16 pages)
Hidden Jobs Finder Resource Video - Google (Video: 17:09) (PDF - 11 pages)
Hidden Jobs Finder Resource Video - Telephone Sourcing (Video: 30:33) (PDF - 63 pages)
Hidden Jobs Finder Resource - Boolean Search Strings (PDF - 40 pages)
Messaging Appendix of Sample Messages to Hiring Managers (PDF - 32 pages)
Instant access at point of purchase with digital delivery
Automatic access to any future updates
365-day money back guarantee
Published by: Career Confidential
Language: English
LinkedIn Profile Tutorial
Product delivered in 3 convenient formats:

Video for "Show and Tell" accessibility (53 minutes)
MP3 Download to listen on the go (58 minutes)
PDF Download – you can read and make notes (8 pages)

Instant access at point of purchase with digital delivery
365-day money back guarantee
Automatic access to any future updates
Published by: Career Confidential
Language: English
Facebook Profile Tutorial
Product delivered in 3 convenient formats:

Video for "Show and Tell" accessibility (47 minutes)
MP3 Download to listen on the go (47 minutes)
PDF Download – you can read and make notes (30 pages)

Instant access at point of purchase with digital delivery
365-day money back guarantee
Automatic access to any future updates
Published by: Career Confidential
Language: English
How to Use a Recruiter
40 Page eBook
Instant access at point of purchase with digital delivery
365-day money back guarantee
Automatic access to any future updates
Published by: Career Confidential
Language: English
Extreme Resume Makeover Kit
Over 43 minutes of video coaching, segmented into:
Introduction (3 minutes, 46 seconds)

Personal Details (3 minutes, 14 seconds)

Objective (3 minutes, 41 seconds)

Employment History (10 minutes, 39 seconds)

Education (6 minutes, 16 seconds)

Preceptorship / Job Shadowing (1 minute)

Professional Accomplishments (2 minutes, 10 seconds)

Professional Organizations (1 minute, 20 seconds)

Community Service (30 seconds)

References (11 minutes)

4 Downloadable Resume Template Examples
Resume Template Technical Instructions Video
(13 minutes, 11 seconds)

50-page Downloadable PDF Handout
Instant access at point of purchase with digital delivery
Automatic access to any future updates
365-day money back guarantee
Published by: Career Confidential
Language: English
Total Access Club Coaching Club Membership
Nine 1-hour Job Search Coaching videos:

Approaching the Hiring Manager
The Resume – Your Marketing Document
Phone Interviews – Tips for Getting the Face-to-Face
Brag Book – Who, How, What, When, Where, Why
30/60/90-Day Plans
Face-To-Face Interviews – Tips on Control and Using Tools
Closing for the Job – Asking for the Next Step
Follow Up – Thank You Notes, Phone Calls, Etc.
How To Excel In Your Career

Access to every video for the length of your membership
Bi-weekly live Q&A sessions with Peggy and Carl (1 hour)
(Submit your questions in advance)
Access to every recorded live session since the beginning of the club, for as long as you are a member
Each live session is indexed and searchable for the topic you want
Instant access at point of purchase with digital delivery
Automatic access to any future updates
365-day money back guarantee
Published by: Career Confidential
Language: English
Podcast Library

Telephone Interview Prep Podcast (10 minutes)
Brag Book Podcast (10 minutes)
References Podcast (8+ minutes)
Behavioral Event Interview Podcast (52+ minutes)
Panel Interview Podcast (10+ minutes)
Closing for the Job Podcast (10+ minutes)
Follow Up Podcast (10 minutes)
Salary Negotiations (10 minutes)

Audio Sound Files on website
Downloadable MP3 versions available
Instant access at point of purchase with digital delivery
365-day money back guarantee
Automatic access to any future updates
Published by: Career Confidential
Language: English
Strategic Approach to Interviewing
Website-Based Video Coaching – Complete Video (1 hour, 19 minutes)
Divided into Modules for your convenience:

Module 1 – Interview Preparation: What is your Goal? (length 13:10)
Module 2 – Phone Interviews (length 7:49)
Module 3 – Face to Face Interviews (length 19:33)
Module 4 – Closing the Interview/Special Scenarios (length 27:11)

PDF Handout Download Included
MP3 Download Included
iPod Movie Download Included
Instant access at point of purchase with digital delivery
365-day money back guarantee
Automatic access to any future updates
Published by: Career Confidential
Language: English
How to Get Into Medical Sales
Downloadable/printable documents include:

Resume Template
Cover Letter Template
Technology Sheet Template
30/60/90-Day Plan Examples
Thank You Note Sample
"Top 100" Medical Sales Companies Report

Audio Sound Files on website – listen as complete file, or listen in segments:

Introduction (3 minutes, 28 seconds)
Beginning of Resume Template (3 minutes, 44 seconds)
Objective Statement (1 minute, 43 seconds)
Employment History (9 minutes)
Education (4 minutes, 43 seconds)
Professional Accomplishments (1 minute, 32 seconds)
Professional Organizations (1 minute, 32 seconds)
Community Service (30 seconds)
References (5 minutes, 15 seconds)
Preceptorship (1 minute)
Cover Letter (6 minutes, 23 seconds)
Thank You Notes (7 minutes, 25 seconds)
Technology Sheet (3 minutes, 47 seconds)
30/60/90-Day Sales Plan (9 minutes, 32 seconds)
Going Directly to Hiring Managers (vs. Applying Online) (10 minutes, 13 seconds)
Social Networks – How to Use Them In Your Job Search (7 minutes, 26 seconds)
Recruiters – How to Think About This… (4 minutes, 53 seconds)
Sales Skills – Honing the Edge (6 minutes, 52 seconds)
Conclusion and Summary – Final Thoughts… (9 minutes, 34 seconds)

Instant access at point of purchase with digital delivery
Information always available online
Automatic access to updates/new features
365-day money back guarantee
Published by: Career Confidential
Language: English

What people say... Login to rate

Be the first to leave a review.

Show more