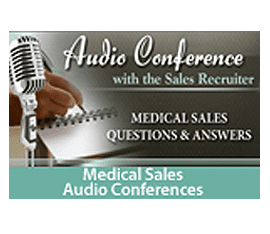 [myrpratings]
Product Description:
How can you stand out as a candidate in the highly competitive field of medical sales?  You step inside the head of the Medical Sales Recruiter and take advantage of more than 15 years of experience in the field.  Peggy McKee, the Medical Sales Recruiter, gives you over 3 hours of her insider tips and tricks about the medical sales industry (complete with the exact wording you need to knock down the barriers and get the offer) with her "top tens" for shooting past the competition and landing the job you want in medical sales:
Top Ten Questions You'll Be Asked in a Medical Sales Interview
Top Ten Questions You Have About Medical Sales
Top Ten Objections You'll Encounter In Your Interview (and How to Answer Them)
Top Ten Tips for Getting in Front of the Hiring Manager
Top Ten Tips for Medical Sales Interview Preparation
Whether you're an experienced medical sales rep who's having trouble navigating the current market, or a brand-new graduate who needs a solid boost into your first job, this "total package" of comprehensive medical sales candidate prep guides you into becoming the best-prepared, most exciting candidate the hiring manager will see.  Peggy's experience working with thousands of hiring managers will give you the inside track to becoming the candidate they want to hire.
---
Product Details:
Top 10 Questions You'll Be Asked In a Medical Sales Interview
Top 10 Questions You Have About Medical Sales
Top 10 Objections You'll Encounter in Your Interview (and How to Answer Them)
Top 10 Tips for Getting in Front of the Hiring Manager
Top 10 Tips for Medical Sales Interview Preparation
63-page transcript as PDF Download
Instant access at point of purchase with digital delivery
Automatic access to any future updates
Published by:  Career Confidential
Language:  English