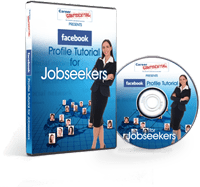 [myrpratings]
Product Description:
When you think of Facebook, what comes to mind? Maybe finding long lost high school pals or family and friends in another state? But, if that's all you're doing, you're missing out on an incredible opportunity to market yourself and your skills to potential employers.
You've heard the horror stories about Facebook, and how using it can be detrimental to your current or potential career. The fact is—employers often check Facebook prior to making hiring decisions. You can make sure that what they find tilts the odds in your favor.
Networking has always been vital to job-seekers, so why overlook Facebook, a true giant in the realm of social networking? With over 750 million users, Facebook offers an undeniable opportunity to take advantage of a staggering network of individuals and organizations.
Use the networking gold mine that is Facebook—begin with your friends and journey through multiple layers of connections, making the trek to individuals and companies with something to offer you.
Create a spectacular profile and bio that will get you noticed and guide hiring managers straight to you.
Connect with companies and join special groups to harness their full potential.
Instead of using status updates to talk about where you're having lunch, learn what to say that will grab the attention of recruiters and hiring managers.
Use the Facebook Tutorial and learn how to use Facebook in a manner that will get you noticed and get you hired. Understand the importance of branding yourself and marketing your skills. Ultimately, learn how to take advantage of all Facebook has to offer to land the job of your dreams.
Product Details:
Product delivered in 3 convenient formats:
Video for "Show and Tell" accessibility (47 minutes)
MP3 Download to listen on the go (47 minutes)
PDF Download – you can read and make notes (30 pages)
Instant access at point of purchase with digital delivery
Automatic access to any future updates
Published by: Career Confidential
Language: English