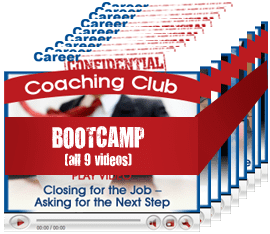 [myrpratings]
Product Description:
Need to know everything about finding and winning a great job right NOW?  Then you need "Boot Camp."
Boot Camp is maximum-impact job search training that focuses on the step-by-step essentials of the job search while delivering powerful keys to the success you want.  It's a job search "crash course."
Here's how it works:  Boot Camp is divided up into 9 videos that each address a different fundamental piece of job search and career success.  Each video is PACKED with tips, techniques, and methods for accomplishing your goal.
You'll get
a recruiter's secrets for standing out from the crowd
killer resume writing techniques
methods for getting in front of the hiring manager
insider tips for nailing the interview
proven interview tools (and how to use them)
a little-known but extremely effective way to follow up and secure the offer
and more.
When you're done, you'll know how to control the process to get the outcome you want.
Watch each video at your own convenience, and brush up as necessary with unfettered access.
Video 1 – Approaching the Hiring Manager (forget job boards…focus on what gets results)
Video 2 – Resume (write a resume that sells you as a top candidate)
Video 3 – Phone Interviews (make a great impression and get to the face-to-face)
Video 4 – Brag Books (back up your resume with evidence of your accomplishments)
Video 5 – 30/60/90-Day Plans (use this powerful tool to help them see you in the job)
Video 6 – Face to Face Interviews (prepare and execute interview strategies that win)
Video 7 – Closing for the Job (get the job offer with this technique)
Video 8 – Follow Up (show off your communication skills and secure the offer)
Video 9 – How to Excel in Your Career (get the promotions and rise to the top)
---
Product Details:
Video 1 – Approaching the Hiring Manager (55:41)

Video 2 – Resume (1:09:39)

Video 3 – Phone Interviews (1:05:57)

Video 4 – Brag Books (51:52)

Video 5 – 30/60/90-Day Plans (1:08:13)

Video 6 – Face to Face Interviews (33:31)

Video 7 – Closing for the Job (1:03:44)

Video 8 – Follow Up (1:10:30)

Video 9 – How to Excel in Your Career (1:13:45)

Instant access at point of purchase with digital delivery
Automatic access to any future updates
Published by:  Career Confidential
Language:  English