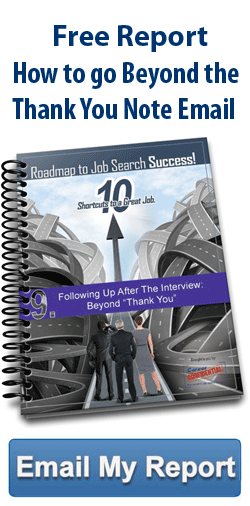 Employers watch closely to see what you do after the interview.  If they are on the fence about you at all, a misstep here can knock you right out of the job.
If you're this far in the process, don't make a mistake.
Download my Free Report on Following Up After the Interview and learn how to avoid mistakes that other candidates make.
Fill out the form on this page, and get instant access to this vital information.
This report will show you the best way to follow up after your interview:
What to find out in the interview for the best follow up
What your thank you email should say and when you should send it
What you can do after you send your email to stay in the game
How to keep the conversation going in a professional and positive way
Don't wait.  If you want the job, you need this information. 
Do yourself a favor and download this report right now.