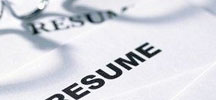 As a stay-at-home mom, updating your resume is perhaps the most overwhelming task you'll need to do after deciding to rejoin the workforce.
I know it's a bit overwhelming and ironic to some extent, considering you've done well raising your kids – updating your resume should be a piece of cake, right?
It's trickier than it seems. Sure, it's easy to list your education and previous work before the kids came – but what comes next? How do you explain the huge gap from then 'til now?
That's exactly what I'm going to help you do…

Read more...