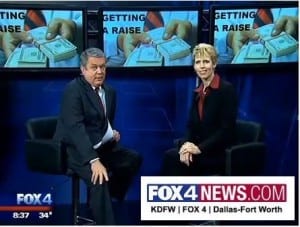 Would you like a raise in 2015? Tune in to see my segment on Fox News Dallas-Fort Worth February 26th and learn exactly what you need to know to ask for a raise successfully.
To make sure you don't miss a thing, I've created a Complimentary Special Report - How to Ask for a Raise with all my hints and tips written out for you.  It's completely free--no charge. Click the link below to get it.
Click Here to Get my Free Report: How to Ask for a Raise
This report is my gift to you. I hope you enjoy it and that it helps you get the raise you deserve.
I was very pleased to be asked to show you how to ask for and receive a raise for the hard work you do.  Thank you Fox News Dallas-Ft. Worth!