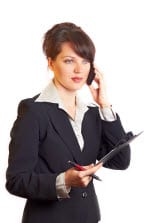 The phone interview seems innocuous enough, but many applicants don't realize its importance. Whether it lasts 10 or 30 minutes, that conversation can make or break your chances of getting hired. If you're unlucky enough to annoy the interviewer, it could be over in seconds.
Unfortunately, because most phone interviews are short, not to mention it's only done once per applicant, there's very little time to recover from a poor response. So it's best to prepare in advance.
Knowing what can go wrong can help you prevent it from happening in the first place.
Costly Mistakes to Avoid During Phone Interviews