Review Spotlight
"I've only seen a few of your podcasts now, but every one is packed with useful information about finding your next job AND how to excel at that job.
I find your personal examples (like sharing books that helped you) particularly helpful. Thanks!"
- Ann B.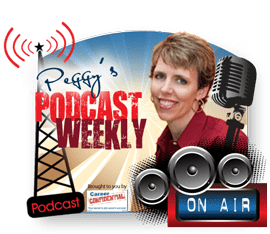 $17/month

Product Description:
What's the best way to find job search success with the least amount of time or effort?  By simply listening to and absorbing the most cutting-edge topics, techniques and insights in bite-sized, get-down-to-business, take-action-now podcasts.
Peggy's Podcast Weekly is designed for the job seeker with no time for the search.  You'll stay up-to-date on the latest tips and techniques effortlessly with 10-15 minute audio training podcasts set up on an automatic delivery schedule—right to your inbox.  It will be a weekly "meeting" with your job search mentor that you can have at your own convenience—in the car, at the gym, whenever and wherever.
Each week, one manageable step at a time, you'll learn something new you can implement immediately to get results in your job search.  You won't miss a thing you need to know to be the winning candidate.  Before you know it, you'll have the cumulative skills to get a job anytime, anywhere (or even earn that promotion you've got your eye on).  Podcasts cover a huge range of essential topics:
Approaching Hiring Managers
Salary Negotiations
Using LinkedIn
How to Use Facebook and Twitter for the Job Search
Making Rejection Work for You
Winning the Job Search "Numbers Game"
Resume Tips
What to Do If You're Unemployed
How to Be Persistent Without Being a Pest
Long-Distance Job Hunting
And much, much more!
---
Product Details:
Podcast length varies—typical running time of 10-15 minutes each
Podcast training delivered weekly
Podcasts accessible at your convenience
Podcasts available as sound files on website or as MP3 downloads
Membership billed on a monthly basis
Instant access at point of purchase with digital delivery
Automatic access to any future updates
Published by:  Career Confidential
Language:  English
What people say... Login to rate
Be the first to leave a review.
Show more