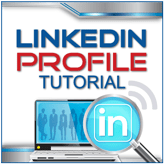 [myrpratings]
Product Description:
LinkedIn has become the gold standard for online business networking today.  If you're in an active job search (or even flirting with one), you know just how valuable it can be for getting your name out there and making the contacts you need for job leads.
You might even know that over 80% of recruiters and hiring managers regularly search LinkedIn for potential candidates.  And all of that raises this critical question:
How can you stand out in the mind-boggling crowd of over 100 million people on LinkedIn, so they can find you?
While LinkedIn itself will walk you through setting up a profile, the end game (of LinkedIn's creators, anyway) is networking.  If you're in the job search, networking is a great thing, but your true goal is a job.
The LinkedIn Profile Tutorial gets you to your goal through a proven process of insider techniques.  It guides you, step-by-step, to creating a profile that gets the attention of potential employers.
Write a powerful summary that piques interest
Post just the right photo
Emphasize what you have to offer
Skip mistakes that ruin your chances of getting noticed
Identify and utilize the 3 key tools of LinkedIn
Even alleviate the #1 worry of job seekers on LinkedIn:  What if my boss finds out?  It's entirely possible to build a powerful presence on LinkedIn that attracts the interest of recruiters and hiring manages without overtly advertising your job-seeking status.
The LinkedIn Profile Tutorial is a complete, step-by-step system for developing a profile that represents you at your best.
---
Product Details:
Product delivered in 3 convenient formats:
Video for "Show and Tell" accessibility (53 minutes)
MP3 Download to listen on the go (58 minutes)
PDF Download – you can read and make notes (8 pages)
Instant access at point of purchase with digital delivery
Automatic access to any future updates
Published by:  Career Confidential
Language:  English