Job Offer Generator Product Reviews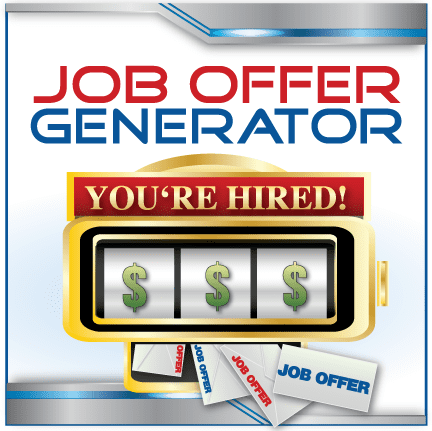 Average Ratings
Overall Rating
Usefulness
Support
Value
Quality
Ease of Use
Product Description:
The job market is a navigational nightmare, but the Job Offer Generator is your GPS system. Everything you need to find the fastest way to your ultimate goal—the job of your dreams—is all here in one complete package.
Peggy McKee shares her years of experience and knowledge as the ultimate guru for job seekers in this impressive collection. A compilation of ten of our best-sellers, this product is a must-have to help you chart your own course for career success.
Walk into the interview already miles ahead of your competitors when you bring your 30/60/90-Day Plan—your strategic plan for your first 3 months on the job. Our most popular product helps the hiring manager "see" you in the job and puts him on your team. It is a must-have for job seekers in any field because it spotlights you as the go-getter they want.
With so many job-seekers pounding the pavement, you need a way to get noticed and find hidden job gems in an oversaturated job market. The Hidden Jobs Finder is chock full of tips and techniques that will help you find available jobs and secure the right one for you. Learn how to go direct to the source and circumvent the unnecessary hurdles that other job-seekers are undoubtedly jumping through.
Did you know that 80% of hiring managers use LinkedIn to search for candidates? They'll come straight to you with the best opportunities when you create a compelling profile using our LinkedIn Profile Tutorial. It will guide you past common mistakes and show you how to market yourself and your skills.
Explore all your options when you widen your job lead net with Facebook. Our Facebook Profile Tutorial shows you how to take advantage of little-known ways to enhance your online presence and snag job leads you wouldn't have otherwise seen.
Recruiters aren't just for high-powered executives - they're for everyone in need of a job. The 40-page "How to Use a Recruiter" eBook simplifies the process of working with a recruiter. Learn what you should be searching for in a recruiter and how to use that relationship to find a job.
Resumes often go directly into the round file, otherwise known as the trash can. When you're competing against so many others in the job market, use the Extreme Resume Makeover Kit to ensure you stand out as a "keeper." This package is the ultimate guide to creating resume that "sells" you. If your current resume isn't generating interviews, you need this kit.
An expert guide will get you to your destination much faster. The Total Access Club starts with nine separate job search training videos that take you from unemployed to the top of the ladder in your chosen field. Along the way, talk directly with a job search expert to get real-time solutions to the issues and obstacles you face.
Learn how to market yourself and your skills in every type of interview, from a telephone interview to the often intimidating panel interview. The Podcast Library answers all of these questions and more. Turn your MP3 player into a job-hunters dream by listening to proven recommendations regarding follow up, references, and salary negotiation.
Does the thought of an interview make you weak in the knees? (You're not alone.) The Strategic Approach to Interviewing guide will put you on solid ground by showing you how you can take control of the process and influence it in your favor. You'll know exactly how to answer the most-dreaded questions that nearly every interviewer asks, how to "sell" yourself as the best fit for the job, and what to say that will close the deal so that you get the job of your dreams.
From cover letters to a technology sheet, a little known resume supplement, the How to Get into Medical Sales guide, is a valuable resource that can be adapted for any career. From seasoned veterans to beginners, this tool will skillfully guide you through getting a career any field.
If you're in need of a job, if you want to change jobs or even if you want to change careers, this collection is a must. Use the proven tips in each module to gain valuable information that other job-seekers aren't lucky enough to have.
Product Details:
30/60/90 Day Action Plan
30/60/90-Day Action Plan Template (PDF Download)
3 Sample Plans in 3 different styles (PDF Download)
1 PowerPoint Template (download from website)
"How-To" Video for Customizing PowerPoint (video file on website)
50 minutes of video coaching to use the plan (video file on website)
Introduction to the 30/60/90-Day Action Plan (8:37)

Building the 30/60/90-Day Action Plan (4:49)

First 30 Days (3:33)

The 80/20 Rule (6:08)

60 Days (the next 30 days) (5:15)

90 Days (the next 30 days) (4:31)

Presenting the 30/60/90-Day Action Plan (22:59)
Bonus - Modifying the PowerPoint Template (11:33)

Instant access at point of purchase with digital delivery
Automatic access to any future updates
365-day money back guarantee
Published by: Career Confidential
Language: English
Hidden Jobs Finder
3 hours of video, accessible in 3 ways (website video, MP3, iPod Movie)
252 pages of downloadable PDF handouts
BONUS Excel Tracking Spreadsheet to Organize Contact List and Activity
Hidden Jobs Finder Overview and Guide (Video: 1:12:09) (PDF - 72 pages)

Module 1 - Understand How the Hidden Jobs Finder Works (6:23)
Module 2 - Marketing Yourself to Hiring Managers (12:25)
Module 3 - Social Media: How to Find and Be Found (5:34)
Module 4 – Messaging (32:38)
Module 5 - FAQs and Key Ideas (9:09)
Hidden Jobs Finder Resource Video - LinkedIn (Video: 38:35) (PDF - 18 pages)

Hidden Jobs Finder Resource Video - Facebook (Video: 29:12) (PDF - 16 pages)
Hidden Jobs Finder Resource Video - Google (Video: 17:09) (PDF - 11 pages)
Hidden Jobs Finder Resource Video - Telephone Sourcing (Video: 30:33) (PDF - 63 pages)
Hidden Jobs Finder Resource - Boolean Search Strings (PDF - 40 pages)
Messaging Appendix of Sample Messages to Hiring Managers (PDF - 32 pages)
Instant access at point of purchase with digital delivery
Automatic access to any future updates
365-day money back guarantee
Published by: Career Confidential
Language: English
LinkedIn Profile Tutorial
Product delivered in 3 convenient formats:

Video for "Show and Tell" accessibility (53 minutes)
MP3 Download to listen on the go (58 minutes)
PDF Download – you can read and make notes (8 pages)

Instant access at point of purchase with digital delivery
365-day money back guarantee
Automatic access to any future updates
Published by: Career Confidential
Language: English
Facebook Profile Tutorial
Product delivered in 3 convenient formats:

Video for "Show and Tell" accessibility (47 minutes)
MP3 Download to listen on the go (47 minutes)
PDF Download – you can read and make notes (30 pages)

Instant access at point of purchase with digital delivery
365-day money back guarantee
Automatic access to any future updates
Published by: Career Confidential
Language: English
How to Use a Recruiter
40 Page eBook
Instant access at point of purchase with digital delivery
365-day money back guarantee
Automatic access to any future updates
Published by: Career Confidential
Language: English
Extreme Resume Makeover Kit
Over 43 minutes of video coaching, segmented into:
Introduction (3 minutes, 46 seconds)

Personal Details (3 minutes, 14 seconds)

Objective (3 minutes, 41 seconds)

Employment History (10 minutes, 39 seconds)

Education (6 minutes, 16 seconds)

Preceptorship / Job Shadowing (1 minute)

Professional Accomplishments (2 minutes, 10 seconds)

Professional Organizations (1 minute, 20 seconds)

Community Service (30 seconds)

References (11 minutes)

4 Downloadable Resume Template Examples
Resume Template Technical Instructions Video
(13 minutes, 11 seconds)

50-page Downloadable PDF Handout
Instant access at point of purchase with digital delivery
Automatic access to any future updates
365-day money back guarantee
Published by: Career Confidential
Language: English
Total Access Club Coaching Club Membership
Nine 1-hour Job Search Coaching videos:

Approaching the Hiring Manager
The Resume – Your Marketing Document
Phone Interviews – Tips for Getting the Face-to-Face
Brag Book – Who, How, What, When, Where, Why
30/60/90-Day Plans
Face-To-Face Interviews – Tips on Control and Using Tools
Closing for the Job – Asking for the Next Step
Follow Up – Thank You Notes, Phone Calls, Etc.
How To Excel In Your Career

Access to every video for the length of your membership
Bi-weekly live Q&A sessions with Peggy and Carl (1 hour)
(Submit your questions in advance)
Access to every recorded live session since the beginning of the club, for as long as you are a member
Each live session is indexed and searchable for the topic you want
Instant access at point of purchase with digital delivery
Automatic access to any future updates
365-day money back guarantee
Published by: Career Confidential
Language: English
Podcast Library

Telephone Interview Prep Podcast (10 minutes)
Brag Book Podcast (10 minutes)
References Podcast (8+ minutes)
Behavioral Event Interview Podcast (52+ minutes)
Panel Interview Podcast (10+ minutes)
Closing for the Job Podcast (10+ minutes)
Follow Up Podcast (10 minutes)
Salary Negotiations (10 minutes)

Audio Sound Files on website
Downloadable MP3 versions available
Instant access at point of purchase with digital delivery
365-day money back guarantee
Automatic access to any future updates
Published by: Career Confidential
Language: English
Strategic Approach to Interviewing
Website-Based Video Coaching – Complete Video (1 hour, 19 minutes)
Divided into Modules for your convenience:

Module 1 – Interview Preparation: What is your Goal? (length 13:10)
Module 2 – Phone Interviews (length 7:49)
Module 3 – Face to Face Interviews (length 19:33)
Module 4 – Closing the Interview/Special Scenarios (length 27:11)

PDF Handout Download Included
MP3 Download Included
iPod Movie Download Included
Instant access at point of purchase with digital delivery
365-day money back guarantee
Automatic access to any future updates
Published by: Career Confidential
Language: English
How to Get Into Medical Sales
Downloadable/printable documents include:

Resume Template
Cover Letter Template
Technology Sheet Template
30/60/90-Day Plan Examples
Thank You Note Sample
"Top 100" Medical Sales Companies Report

Audio Sound Files on website – listen as complete file, or listen in segments:

Introduction (3 minutes, 28 seconds)
Beginning of Resume Template (3 minutes, 44 seconds)
Objective Statement (1 minute, 43 seconds)
Employment History (9 minutes)
Education (4 minutes, 43 seconds)
Professional Accomplishments (1 minute, 32 seconds)
Professional Organizations (1 minute, 32 seconds)
Community Service (30 seconds)
References (5 minutes, 15 seconds)
Preceptorship (1 minute)
Cover Letter (6 minutes, 23 seconds)
Thank You Notes (7 minutes, 25 seconds)
Technology Sheet (3 minutes, 47 seconds)
30/60/90-Day Sales Plan (9 minutes, 32 seconds)
Going Directly to Hiring Managers (vs. Applying Online) (10 minutes, 13 seconds)
Social Networks – How to Use Them In Your Job Search (7 minutes, 26 seconds)
Recruiters – How to Think About This… (4 minutes, 53 seconds)
Sales Skills – Honing the Edge (6 minutes, 52 seconds)
Conclusion and Summary – Final Thoughts… (9 minutes, 34 seconds)

Instant access at point of purchase with digital delivery
Information always available online
Automatic access to updates/new features
365-day money back guarantee
Published by: Career Confidential
Language: English
Job Offer Generator Product Reviews
30