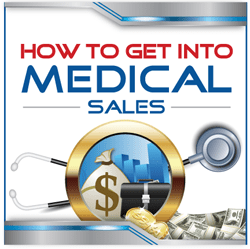 [myrpratings]
Product Description:
What's the fastest way to break into the exciting and lucrative field of medical sales?
How do you stand out in this highly competitive arena when you have no experience?
What's the easiest way to transition from pharmaceutical sales to medical device?
The How to Get into Medical Sales Kit from Peggy McKee, the Medical Sales Recruiter, is the answer to every "How do I land a job in medical sales?" question.  Peggy's 15+ years in medical sales (as a rep, manager, and recruiter) are packed into one comprehensive guide to the essential, vital tools and techniques medical sales job seekers need.   Even if you lack a medical background or sales experience, you'll benefit from these expert tips to transitioning into a medical sales career.
As a recruiter, Peggy McKee has placed thousands of "rookies" into desirable medical sales jobs using the exact components in this kit:
Video Coaching – Over 1 hour of video coaching from the Medical Sales Recruiter: detail-packed training on everything you need to know to land the job, including "how-to's" for each of the following critical documents…
Resume Template – the resume structure that includes specifics vital to medical sales managers
Cover Letter Template – the 'magic' words that convince them to call you
Technology Sheet Template – a little-known but very effective tool that supplements the resume
30/60/90-Day Sales Plan – your proof that you know how to do the job and you will be successful, in Peggy's proven format
Thank You Note Sample – not just a "thank you," but another selling tool that pushes toward an offer
"Top 100" Medical Sales Companies Report – includes statistics as well as Peggy's insider information on the best companies to work for
Top 10 Secrets to Transition from Pharmaceutical Sales to Medical or Medical Device Sales - straight-talking, detailed "how-to"s
---
Product Details:
Downloadable/printable documents include:
Resume Template
Cover Letter Template
Technology Sheet Template
30/60/90-Day Plan Examples
Thank You Note Sample
"Top 100" Medical Sales Companies Report
Video Files on website – watch the whole thing at once or in segments:
Complete Video Coaching from the Medical Sales Recruiter (1:00:03)
Introduction and Beginning of Resume Template (7:05)
Objective Statement (1:45)
Employment History (8:59)
Education (4:43)
Professional Accomplishments and Organizations (3:57)
References (5:16)
Preceptorship (1:03)
Cover Letter (10:24)
Thank You Notes (7:21)
Technology Sheet (3:47)
30/60/90-Day Sales Plan (9:38)
Going Directly to Hiring Managers (vs. Applying Online) (10:11)
Social Networks – How to Use Them In Your Job Search (7:24)
Recruiters – How to Think About This… (4:50)
Sales Skills – Honing the Edge (6:50)
Transitioning from Pharma to Medical or Medical Device Sales (36:34)
Conclusion and Summary – Final Thoughts… (9:40)
EXTRA Resume Template Technical Instructions Video (13:11)
Instant access at point of purchase with digital delivery
Information always available online
Automatic access to updates/new features
Published by:  Career Confidential
Language:  English