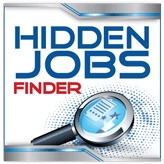 [myrpratings]
Product Description
What's the fastest, easiest, and best way to find a job today?
Unless your parents own the company, there's only one answer:  tap the hidden job market. Why?  Because over 70% of all available jobs are not advertised...which means almost no one has applied for them yet.
If you can find them, you'll be in the 'sweet spot' at the front of the line…in the direct view of the hiring manager.  The more you find, the faster you'll get a job.
Think about how much better that is than a 'typical' job search:  You probably spend a lot of time applying online for posted jobs.  But so do a thousand other applicants.   Your application gets lost in the flood and you never get an interview.  The end result is:  not only do you not have a job, you feel like no one will ever want to hire you.
Forget that.  You NEVER have to feel like that again.
My Hidden Jobs Finder is like a job-search bloodhound.  It will lead you straight to actual jobs in your field.  Great jobs.  And it will show you how to talk to the person with the power to say 'You're Hired'.
Finding hidden jobs and contacting the hiring manager directly is THE most effective way to find a job today.  Most people who use the Hidden Jobs Finder get great jobs in a matter of weeks, and many of them get multiple job offers.
Multiple job offers...Need I say more?
The Hidden Jobs Finder will take you step-by-step through the most successful job search of your life:
Find names and contact information of hiring managers in your field
Get in front of hundreds of hiring managers in a just a few hours
Market yourself as a great job candidate
Save time in your job search
Keep your job search a secret from your current boss
Communicate with hiring managers using provided, customizable scripts
Stay organized with a methodical, proven system
Look all over the country, or just in your current area
Get lots of interviews
Whether you're a new graduate, a seasoned executive, or someone in between, the Hidden Jobs Finder is your key to finding the job you want.
---
Product Details:
3 hours of video, accessible in 3 ways (website video, MP3, iPod Movie)
252 pages of downloadable PDF handouts
BONUS Excel Tracking Spreadsheet to Organize Contact List and Activity
Hidden Jobs Finder Overview and Guide  (Video:  1:12:09)  (PDF - 72 pages)

Module 1 - Understand How the Hidden Jobs Finder Works  (6:23)
Module 2 - Marketing Yourself to Hiring Managers   (12:25)
Module 3 - Social Media: How to Find and Be Found    (5:34)
Module 4 – Messaging   (32:38)
Module 5 - FAQs and Key Ideas   (9:09)
Hidden Jobs Finder Resource Video - LinkedIn  (Video: 38:35)  (PDF - 18 pages)

Hidden Jobs Finder Resource Video - Facebook  (Video: 29:12)  (PDF - 16 pages)
Hidden Jobs Finder Resource Video - Google  (Video: 17:09)  (PDF - 11 pages)
Hidden Jobs Finder Resource Video - Telephone Sourcing (Video: 30:33) (PDF - 63 pages)
Hidden Jobs Finder Resource - Boolean Search Strings (PDF - 40 pages)
Messaging Appendix of Sample Messages to Hiring Managers  (PDF - 32 pages)
Instant access at point of purchase with digital delivery
Automatic access to any future updates
365-day money back guarantee
Published by:  Career Confidential
Language:  English