Extreme Resume Makeover Kit Product Reviews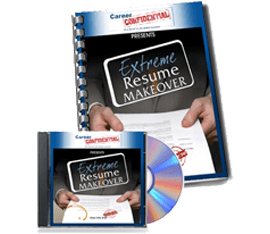 Average Ratings
Overall Rating
Usefulness
Support
Value
Quality
Ease of Use

Product Description:
What's the secret to writing a resume that generates phone calls and interviews--over and over again?
While all good resumes have some basic commonalities (reverse chronological order, a clean appearance, error-free, and complete information), job-getting resumes have something extra:
They grab attention (and interviews) by acting as a marketing brochure for the job seeker.
It's not hard to turn your resume into a marketing brochure. You don't need an expensive resume writer, either. But there is a proven technique and path to follow.
The Extreme Resume Makeover Kit guides you the process of creating a killer resume that represents you strongly as a candidate and sells you as the solution, or the "product," the hiring manager needs. As a bonus, you can have your completed resume within an hour.
Create a resume that highlights your fit for the job with a fill-in-the-blanks template
Turn your objective statement into a "headline" that captures attention and interest
Find out the 3 critical questions your employment history must answer
Set your resume up to consistently rise to the top of the list in database searches
Learn how to use the rest of your resume (education, professional accomplishments, organizations) to boost your candidacy
Avoid the mistakes everyone makes when they send their resume electronically
---
Product Details:
Over 43 minutes of video coaching, segmented into:
Introduction (3 minutes, 46 seconds)

Personal Details (3 minutes, 14 seconds)

Objective (3 minutes, 41 seconds)

Employment History (10 minutes, 39 seconds)

Education (6 minutes, 16 seconds)

Preceptorship / Job Shadowing (1 minute)

Professional Accomplishments (2 minutes, 10 seconds)

Professional Organizations (1 minute, 20 seconds)

Community Service (30 seconds)

References (11 minutes)

4 Downloadable Resume Template Examples
Resume Template Technical Instructions Video
(13 minutes, 11 seconds)

50-page Downloadable PDF Handout
Instant access at point of purchase with digital delivery
Automatic access to any future updates
Published by: Career Confidential
Language: English
Extreme Resume Makeover Kit Product Reviews
114