A Private Message to Sales Professionals Struggling to Get a Medical Sales Position…
"Top Gun Medical Sales Recruiter Reveals the Secret Formula or Interviewing and Landing Almost Any Medical Sales Job…Guaranteed"
" Peggy was the guiding light for me in the darkest of hours . I approached her when I started looking for a change. She had just one session with me which went a long way in helping me land the job I am currently in. Saumitra Rahatekar  – Business Development Manager  – Medico Labs Inc.
In just a few moments, I'll show you…
How to

break into one of the most prestigious sales categories in the market

The secret to making a seamless transition into medical sales
How to bypass HR and make your case directly to hiring managers –
My private formula for showing "rookies" how to land lucrative sales positions; and
More must have tips for breaking into the medical sales field …
Dear Future Medical Sales Superstar,
Hey, I know it's tough out there…
A 10% unemployment rate makes it a buyer's market – putting the power back in the hands of employers. You've probably already seen how brutal it can get out there.
However, it doesn't have to be this way – especially if you are considering medical sales.
Right now, medical sales is hot. Now, more than ever, medical companies need capable, smart and driven professionals to represent their products.
They need you.
As a medical sales professional, you'll enjoy:
•  Prestige – Medical sales is the cream of the crop. You deal with high net-worth clients that are backed by Fortune 500 corporations.
•  High Salaries and Fringe Benefits – Medical companies fight to hold on to their top sales producers. You can expect a robust compensation package with a high base salary and impressive benefits.
•  World Class Training – Training is a competitive advantage. Medical companies make sure you are the absolute best. You will receive training that will make you permanently competitive no matter where you go in your career
•  The Best Toys – You'll get top of the line equipment including laptops, Smartphones, CRM lead management software, demonstration materials, and professional marketing collateral.
•  Fun – Medical sales is challenging and intellectually stimulating. You'll not only be compensated well but you will learn about the latest innovations in the medical field.
In a moment, I will show you how to secure a position in the medical field even if you're just starting out. Although it is challenging for most, you'll have the unfair advantage of insiders' knowledge of how the system works…
But first,
Imagine selecting the top medical sales companies in your preferred city –
…Creating a stunning resume that powerfully promotes your past skills and accomplishments.
…Quickly developing a cover letter that highlights your accomplishments and makes a compelling case for meeting you –
…Sending your credentials directly to the Hiring Manager of the top companies on your list – and, getting an interview without ever having to run the HR gauntlet.
This isn't too good to be true.
I show my clients how to do this all the time. In fact, it happens so often that I forget how powerful the system is.
Better yet,
Imagine Yourself in the Interview –
Now, see the picture of you knowing exactly what to say about your past experience. Don't worry about "trick questions" because you'll have the best answers already memorized and ready to go.
Then the coup de' grace – at just the right moment, you take the hiring manager through your 30/60/90 Day Sales plan that shows how you'll hit the ground running.
Amazing right?
Again, this is routine for the professionals who invest in what I'm about to show you…

My name is Peggy Mckee and I've been recruiting medical professionals for Fortune 500 companies for 15 years. As a recruiter, I've been responsible for selecting the candidates that get the interviews.
I've seen everything. I know what works. I know how to get people with absolutely zero practical medical experience their dream job in medical sales.
Today, I focus on helping professionals break into the multi-billion dollar medical field.
That means – I am here now to HELP YOU.
"Peggy was AMAZINGLY Helpful"

"Peggy was amazingly helpful in every step of assisting me to acquire my new career position. She stayed in touch, informed me of what to expect, and gave me tools to assist me in my success. She was great to work with, and I recommend her to anyone looking to get into a career in the medical sales arena!"
Vicky S.
Territory Sales Manager
Big Name Med Company
Here's the deal:
I've created the "How to Get Into Medical Sales Kit"
This kit has everything you need to kick-in the door and land a Medical Sales position. Already, sales professionals are using what I teach to seamlessly transition from non-sales jobs into medical sales positions!
This is a turnkey kit – which means you just follow the steps and fill in the blanks. It's that easy.
Nothing has been left to chance – Here's what you'll get:
Private Audio Coaching with me. I sat down and recorded every single tip, technique, and strategy, that I've taught in over 15 years as a Medical recruiter.I'll coach you through every step of the process from writing your resume to the actual interview. It will feel like I'm sitting there with you giving you one-on-one attention.
The Power Resume Template. Use this fill-in-the-blanks template to create your own "personal brochure". This template is guaranteed to work and removes all the trial and error out of the process. Plus I'll show you a few tricks that will load your resume with keywords that will get you to the top of the HR resume pile
The Perfect Cover Letter – This cover letter will be the boldest and most persuasive letter that your Hiring Manager will ever see. They'll skip lunch to call you and insist you get in to the office for an interview
I've Seen Enough…Send My Medical Sales Kit Now
Secret Weapon Technology Sheet – This is your "secret weapon" for getting your resume noticed and making the most out of your past experience. I'll show you how to step-up your game and make an unforgettable impression with your own Technology Sheet
Unforgettable Thank You Notes. Did you know that some hiring managers won't hire a sales candidate that doesn't send a follow up thank you note? I'll help you avoid that fate. And I'll show you how to turn your message into another powerful selling tool that will help you get the job.
Plus, I'll show you how to put together the most powerful sales interview tool since the resume –
The 30/60/90 Plan
Why is a 30/60/90 day plan so effective?
It requires you to do your homework on the job and the company so that you know the position inside and out before even stepping foot into the interview. Nothing provides you with more confidence than that.
It demonstrates to the hiring manager that you are highly motivated and willing to do whatever it takes to ensure a successful outcome so he or she is already impressed.
It gives you the opportunity to transform the interview from a back and forth Q & A session to a real discussion between two professionals , which will distinguish you from all the other interviewees.
It will give you an extra touch point for following up with the hiring manager after the interview.  Everybody sends thank you notes. To truly stand out, how about sending your 30/60/90 day plan, and include your revisions based on the conversation you had in the interview? Talk about listening skills and follow up! The manager will know that  you walk your talk .
You won't have to create a 30/60/90 Plan from scratch. I've already created 3 samples – all you need to do is follow my lead.
You have everything you need to blow the socks of any hiring manager.
But…
Let's Stack the Deck and Guarantee that You Land Interviews and Job Offers On Command…
I succeed when you get job offers. I'm super competitive and I love to brag about my clients. So I MUST give you a few secret weapons that will make it darn near impossible for you to fail. By the way these are FREE for you to keep –
FREE AUDIO Bonus #1


Telephone Interview Prep" Audio

Let me show you how to nail your next phone interview. I'll cover:

Exactly what the interviewer is looking for during the telephone interview
How to be prepared for any question (even the trick ones!)
The secret to impressing the interview with Killer Questions of your own!

How to close the deal and land the face-to-face interview

(Sold Now for $17 – Yours FREE)

FREE AUDIO Bonus #2

"What To Do When They Ask For References" Audio

Congratulations! If they are asking for references then they are interested. But you're not home free yet.

This audio tutorial will coach you through getting your references and making sure that they help you rather than disqualifying you for the job.

Don't submit your references until you've listened to this FREE bonus…

(Sold Now for $17 – Yours FREE)

FREE AUDIO Bonus #3

"Polish Up Your Brag Book"

Are you bringing your Brag Book to every interview? What…You Don't have one? Well let me fix that!

Brag books can be an absolutely critical way to tip the scales in your favor in an interview.

Not only do they highlight all your wonderful qualities, they allow you to demonstrate those intangible skills that make a great impression.

(Sold Now for $17 – Yours FREE)
I've Heard Enough! Send Me The Medical Sales Kit Now!
I'm sure you'd agree that having all this information and guidance at your fingertips will give you the unfair advantage in your next job interview.
In fact, here's what another one of my clients said about how our work together affected his job search:
"Most Informed and Helpful Medical Recruiter"

"Peggy McKee was the most informed and helpful medical recruiter that I have experienced. I had been looking for a job for 3 months. After a 10 minute conversation with her, I was able to close the deal on my next job interview. If I had spoken with her 3 months ago, I would have already been employed. I would recommend Peggy without reservation."
John Ward Specialty Chemical Sales Representative
Bossco Industries, Inc.
Ok, Peggy I Need You On My Team –
What Will This Cost Me?
So just think of how much it's costing you to not get started with your career in medical sales.
A year's salary is at least $100,000.
If you do not get this next interview, are you missing out on $5,000?
$20,000?
$50,000?
Given how much is at stake, you can't afford to waste any time without having every possible advantage.
That's why I've made the price of the Medical Sales Kit just $197 , which I'm sure you'd agree is a reasonable amount for the kind of advantage you'll have once you put it to use.
Send My Medical Sales Kit Now!
Plus, I'm willing to stand behind my word with the strongest guarantee on the Internet …
"Iron Clad 365 Day
Money Back Guarantee"

I'm never satisfied unless you are  more than satisfied .  So here is my simple 'no small print' guarantee . Try "How to Get into Medical Sales" and put it through the wringer. Try every strategy, tactic, and technique included in my system as many times as you like – listen to the audio coaching over and over and over again for a full 12 months.
You be the judge. If it doesn't deliver everything that I have promised, or if you are unhappy with it for any reason at all, I will buy it back from you for $200 cash ( more than your original purchase price .)
I have no problem whatsoever making this seemingly crazy guarantee, since I've worked with  candidates thousands of times  using these same tactics — I KNOW they work. Fair enough?
"You have my personal guarantee"

Peggy McKee
The Medical Sales Recruiter
Send My Medical Sales Kit Now!
Go ahead and put the How To Get Into Medical Sales kit to the test today. If it doesn't provide everything I say it will, just let me know and I'll refund your entire investment immediately. No questions asked.
Of course, I can't guarantee that, no matter who you are, that you'll get the first job you apply for. We both know that only a truly dedicated sales professional  will land a lucrative position in medical sales these days. And no amount of insider information can give you the drive and passion to succeed.
But I do guarantee  that when you put my system to use you will have the  unfair advantage  over your colleagues. You undoubtedly will have the best shot of anyone at getting the next job you apply for.
Super Limited Time – Super Bonus
For a very limited time I am offering a very special bonus.
Order the "How to Get Into Medical Sales" Kit today and I will include two private audio seminars that I hosted for top Medical Sales candidates. Price of admission was $197 a Seat for each seminar!
You are going to get to use both of them for FREE as resources in your job search just for purchasing my "How To" system.
The two conferences together provide you with over three hours of insider insight into all the nuances involved in trying to obtain a job in the medical sales arena.
Listen to me discuss the essential details that you have to address in order to be successful in transitioning into medical sales.
Get the answers to the top ten interview questions that you will get while interviewing for medical sales jobs.
How to handle the top ten "tough question" objections that you will face in your interview process for a medical sales position.
Discover 10 clever tricks for getting in front of the hiring manager, even if you have been rejected by HR.
Get my top ten tips for interview preparation that will make sure that once you get an interview you are prepared to do your very best.
These two conferences by themselves are worth almost $400 but they are included FREE with your purchase of my "How to Get Into Medical Sales" system.
So what are you waiting for? Go ahead and click the button below to get started immediately.
Yes!

 – I can't wait to get "How to Get Into Medical Sales"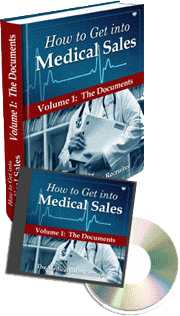 Retail Price: $297.00
Limited Time Price:
$197.00

(Click to add to cart)
or
Call us toll free to order:
800-691-2562
Attention: All of our products are delivered ELECTRONICALLY
Even if your order at 3:00 AM – your product will be
delivered to you almost instantly. You will not have to wait
for anything to ship and you can start using
your product right away.
Wishing you great success…

Peggy McKee
The Sales Recruiter
P.S . – Now is the time for you to join the thousands of people that I've helped land the medical sales jobs of their dreams. The  How To Get Into Medical Sales System is a result of my 15 years of experience in the field. It's also the only complete guide to every step of the process for starting your career in medical sales. Just click on the button above to get started today.
The "How to Get Into Medical Sales" System is a part of the growing family of career related products and services offered by Career Confidential. Visit our website for more info.