Video 7 – Closing for the Job Product Reviews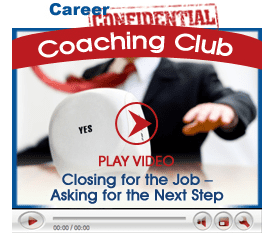 Average Ratings
Overall Rating
Usefulness
Support
Value
Quality
Ease of Use
Product Description:
Most people put a lot of effort into preparing for their interview…but falter when it comes time to ask for the job.  It's the trickiest part of the interview, and by far the most difficult for candidates to master.  It's HARD to ask for the job (or even the next step), but if you do it correctly, it can boost your chances of getting the offer by 30%-40%.  It's worth learning.
Expert negotiator and interview coach Peggy McKee will guide you through the process of closing for the job in this one-hour video.
Discover what the hiring manager REALLY wants to hear from you
Uncover his real objections to hiring you—and get past them
Learn to recognize "buying signals" from the hiring manager
Find out how to push for an answer NOW—and why you must
Never leave another interview wondering what the hiring manger is really thinking about you, or whether or not you'll get the job.  Guide the process to the outcome you want when you learn to close for the job.
---
Product Details:
Video Length:  1 hour, 3 minutes, 44 seconds

Instant access at point of purchase with digital delivery
Automatic access to any future updates
Published by:  Career Confidential
Language:  English
Video 7 – Closing for the Job Product Reviews
36