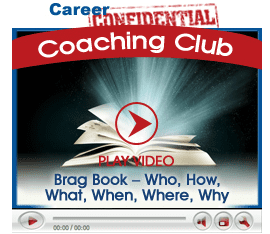 [myrpratings]
Product Description:
You are more than your resume.  Show the hiring manager why you're the top candidate when you put together a brag book that supplements your resume with evidence.
A brag book is a historical look at your past successes—performance reviews, "attaboy" (or girl) notes, awards, performance statistics, and more.  Everyone going into an interview situation should bring along this "proof" of your results, your accomplishments, and your achievements.  It's a "show and tell" piece that's more powerful than many people realize, but it must be done very well to be truly effective.
Interview coach Peggy McKee explains everything you need to know about brag books, in great detail and with specific examples, in this one-hour video:
Why brag books are such fantastic interview tools
What your brag book MUST have to make the best impression
Exactly how to put one together (what it should look like)
When to introduce it in the interview (what's your cue?)
How to talk about your brag book when you're showing it
Real examples of how candidates have used brag books to land the job
---
Product Details:
Video Length:  51 minutes, 12 seconds

Instant access at point of purchase with digital delivery
Automatic access to any future updates
Published by:  Career Confidential
Language:  English