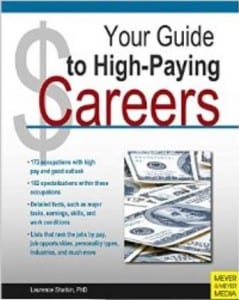 Brian Tracy said, "Your greatest asset is your earning ability; your greatest resource is your time."
Here is an audio where Laurence Shatkin (author of Your Guide to High-Paying Careers, available on Amazon) talks about what Brian Tracy's quote means for you as well as what other factors go into choosing a career, besides the potential earnings.
Laurence has some amazing insights on what you should consider when choosing a new career.
Listen to the audio by clicking on the bar below:
It's great to hear Laurence's insights on his research and what it means for you.  Thank you Laurence!
This is a great book for:
College students - to help decide what field to enter when you graduate
Job seekers - to see what the expected earnings are for your field, and what opportunities (in terms of job openings) are available
I encourage you to get Your Guide to High-Paying Careers by Laurence Shatkin today.
Hear another conversation with Laurence Shatkin about high-paying careers here.
See 6-Figure Occupations.