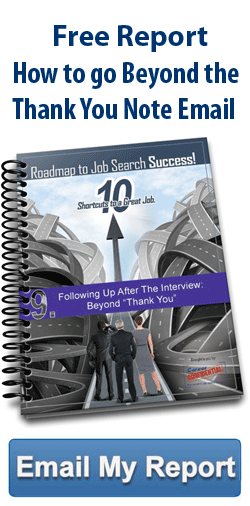 What should you write in your job interview thank you note to encourage them to offer you the job?
Find out in my free report:

Following Up After the Interview: Beyond 'Thank You'
This report tells you...
What the best thank you notes say (it's never just 'thanks for meeting with me')
What to do after you send it (When is it OK to call? And what should you say?)
If they are on the fence about you, you can save your job offer with a good thank you note and follow up plan.
If they like you already, you can boost your value to them (and possibly your starting salary offer) with this information.
If you want the job, get this free report.
Discover the best way to follow up after your job interview and get hired.
Click on 'Email My Report', fill in a valid email address, and I'll send it right to you.
Best of luck!
Categories:
Finding a Job, Follow Up Email After Interview, Getting Hired, Interview Thank You Email, Interviewing Skills and Tips, Job Interview Advice, Job Interview Skills, Job Search, Job Search Success, Job Search Tips, Jobseekers, Thank You Email, Thank You Emails After Interview, Thank You Note After Interview, Thank You Notes