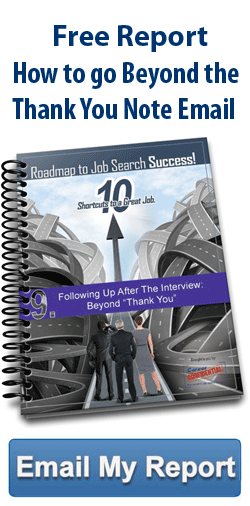 If you think that the thank you note after your interview is just to be polite, you may be costing yourself the job.
Let me tell you what you really should be doing if you want the job in my Free Report, Following Up After the Interview: Beyond Thank You.
This report will show you the best way to follow up after your interview:
What to find out in the interview for the best follow up
What your thank you email should say and when you should send it
What you can do after you send your email to stay in the game
How to keep the conversation going in a professional and positive way
I'll tell you how to keep selling yourself for the job...because if you don't have an offer in your hand, they're not convinced yet and you still have work to do.
There's a lot you can do after the interview to get the job, and it's all in my Free Report.
Fill out the form on this page and download it right now.