Career Climbers Product Reviews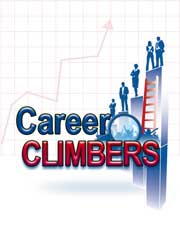 Average Ratings
Overall Rating
Usefulness
Support
Value
Quality
Ease of Use

Product Description:
Your desire for success doesn't stop with your job offer.  But...
Climbing your career ladder requires skills that don't come with your company handbook.
So what is a smart, ambitious, driven professional to do?  Join Career Climbers.
Career Climbers teaches you the 'soft skills' vital to your job advancement.  You'll learn how to get promoted, how to get noticed by higher-ups, how to build a great network, and many more topics on career development.  AND, you'll regularly get a chance to request topics of interest to you!
If you've ever had a mentor, you know just how valuable they are to helping you navigate smoothly past the obstacles that will hold you back.
Career Climbers is the mentor that you don't have to make a special appointment with...and you don't have to spring for lunch, either.   Twice a month, just open up your email and download a 10-minute podcast (time is approximate) and listen at your own convenience.  All podcasts are delivered by Career Confidential CEO Peggy McKee, who climbed her own career ladder within the sales industry at a record pace.  Let her give you her secrets to success.
10-Minute Podcasts deliver hard-hitting, powerful career-climbing advice

Podcast audios are delivered automatically - two times every month
Podcasts are easy to download

Listen at YOUR convenience--in the car, at the gym, whenever
Podcasts can be saved for future reference

---
Product Details:
Podcasts delivered by email twice per month of membership
Podcast length varies--typical running time about 10-15 minutes each
Podcasts available as sound files on website or as MP3 downloads
Membership billed on a monthly basis
Published by:  Career Confidential
Language:  English
Career Climbers Product Reviews
12