30 60 90 Day Plan Leads to Interview Success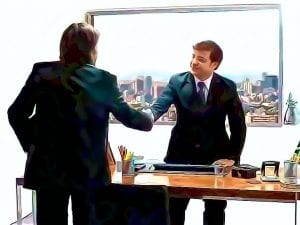 I had to show you this...Ken was having a typical interview for a VP of Strategic Accounts position until he asked the interviewer, 'Can I show you something I put together to give me a game plan for this position?'
Of course, it was his 30 60 90 day plan.
The interviewer was so impressed with his plan, he immediately showed it to another VP, and planned to show it to the President / CEO as soon as possible.
He told Ken that his plan was a major factor in why he was going to recommend Ken for hire:
Peggy, thanks again for your input and review of my 30/60/90 day plan. [Note: We provide free reviews with purchase of our 30-60-90-Day Plans.]

I just wanted to give you an update on my interview that I had [yesterday].

I was unable to bring out my 30/60/90 day plan due to the questions that were or should I say were not asked.

However, after I said, "Based on our conversation we have had, will you recommend me for this job?", I did ask him if I could show him something that I put together to give me a game plan for this specific position, VP of Strategic Accounts.

After he reviewed it, he immediately showed it to another VP within the organization and said he was going to see the President/CEO of the company the next day and he was going to show it to him!

He concluded our meeting by saying he not only has never had a candidate do something like this but the fact that I did was an example of why he was going to recommend me to the President to hire me.

It worked like clockwork. If anyone has a reservation about doing a 30/60/90 day plan before an interview, you are missing out on a great opportunity to distance yourself from the competition.

Thanks again Peggy.

Regards,
Ken
Ken's experience demonstrates not only the power of a 30-60-90-day plan--it also shows the power of closing.
Closing is basically asking for the next step. This is an essential skill ALL job seekers need.
*******
Find out more about 30-60-90-day plans and how to create one for your interview.
Check out Career Confidential job-winning plan templates and coaching here:
30-60-90-Day Plan for Managers
30-60-90-Day Plan for Executives
(All plans come with optional free review by Peggy.)